In my Love It or Leave It post I spoke about my desire to hire and retain people that love their job. Ben Spark made a long, heart felt comment on that post that got me thinking. While my love it leave it concept sounds straight forward enough, there is a second part of that equation that I didn't address at all.
The Employer's Role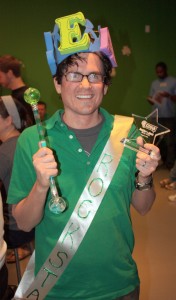 If an employer wants people to love their job it is their responsibility to create a culture and environment that feeds their passion and fuels that love. The employer needs to provide room for growth, embrace the individual and promote creativity.
People often assume that it is easy for me to instill passion in employees simply because of the space we are in. They think that because we make cool software, have young professionals and work in an upbeat office that everything magically falls into place. That is not at all true.
Our executive team has to work at it, commit time towards it and invest money in it. In some ways I would say it is harder for companies like ours because of the type of people we employ. I have found that some of the most creative, open and expressive job functions (like software engineers) require even more effort by management to create the right environment. The more creative the person, the bigger the appetite for stimulus, change and challenge. Managing large groups of smart, creative people can be difficult. It is something I struggle with at times and continue to work on.
So yes, I want employees to love their job. But I also acknowledge that as the CEO it is my responsibility to create something worthy of their love. Employers aren't perfect. Employees aren't perfect. The hope is that we can love each other for what we are and continually grow together.
6 Ideas to Fuel The Love
No matter what type of company you are or people you manage, creating the right culture and environment to fuel the love isn't easy. However, I have a learned a few tricks over the past 15 years that can help.
Annual Company Retreat
Once a year take your entire company someplace fun for a couple of days of off site team building. Mix down and dirty work sessions with play, brainstorming and a little booze. This is a great way to remove employees from the daily grind, give them an opportunity to share ideas and spend some time with each other outside of work. These events do wonders for creating bonds between team members. I have been doing these for years. I have skipped them a few times to save money and always regret it afterwards.
Hack Day
Once a month cram your team into a room and have them work on a concept that is not directly related to their day-to-day job. Think of it as day devoted to innovation within your organization. This allows people to create and chase down their own pet projects. The goal is to have a proof of concept by the end of the day. We have been doing this for a couple of months at IZEA with our development team (thank you for the original idea Adam). It has already produced some new ideas that were adopted by the organization. I plan on rolling it out to other parts of the company over the course of the year.
Puppy Love
Let your employees bring their dogs to the office. I have found that having dogs in the IZEA office (as long as they are well behaved) increases employee morale, stimulates employee communication and contributes to a happier work environment. I had never been able to prove this in the past, but now there is actually research on the subject.
Flexible Start Time
Not all people function best in the morning… some people are just night owls. If people are starting each day grumpy or exhausted you are not setting a good stage for their time on the job. Allow your team members to choose their work hours. At IZEA we let people start their day any time between 7-10am. They have to pick their start time and stick to it so there is consistency, but it gives them some flexibility in their life. This can reduce employee stress and make for happier parents if they need to work around a school schedule.
Hire Women in Management Roles
I am blessed to be surrounded by smart, strong female managers at IZEA. Not only are they hard workers, but they also provide me with a unique perspective that I have never really had before. Like it or not women are generally more compasionate and emotional than men. I embrace this difference and seek feedback from them, especially when it comes to sensitive subjects. They often think of things differently than I do and help me tackle problems in a way that "feels" better.
No Offices
I have written about this before. One of the biggest things you can do as a manager is make yourself available to your team members. Get your ass out of your office and go sit with your team.