This is a sponsored post for Sears via my relationship with IZEA. The opinions are my own.
I am a huge fan of tools, some people might even say I have a bit of an addiction. When I found out that Sears was giving me a $500 gift card to grant a wish for anyone I like, one word came to mind… CRAFTSMAN.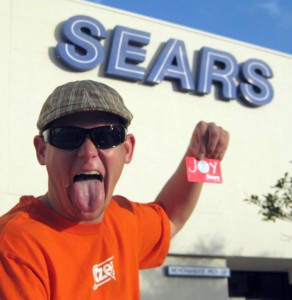 When I started to remodel my house I bought a ton of Craftsman tools and a Craftsman workbench (which is built like a tank). My sisters and I recently bought my father a really nice Craftsman toolbox for his birthday; we share the same addiction.
Five hundred dollars can buy a lot of tools. I was totally fired up. I started researching Sears and their current Don't Just Give a Gift, Grant a Wish campaign further and I came across a video from Ty Pennington, star of Extreme Makeover Home Edition. Ty told a short story about a hammer he received as a gift from his father. There are a bunch of other stories from people like Trisha Yearwood, LL Cool J and Vanessa Hudgens on Youtube.
Ty's video got me thinking about all the great things he has done for those in need. He inspires me to be a better person; to give back. I decided to take the $500 gift card to grant a wish not for myself or a loved one, but for a charity.
New Craftsman Tools for Habitat for Humanity
I am a supporter of the Orlando area Habitat for Humanity and I am so happy to be able to keep contributing. They are a fantastic organization that helps people in our local community get the affordable housing they so desperately need. Habitat doesn't do handouts. Each family is required to invest hundreds of hours in both classroom education and sweat equity in order to understand, appreciate and promote long-term home ownership.
I love shopping for tools, but it feels even better when you are doing it for a cause you believe in. I had an absolute blast at Sears; I was like a kid in a candy store.
I considered buying everything from a 12″ sliding compound miter saw, to a 15in Drill Press (both items I personally want), but in the end I decided to be more practical. I bought an assortment of smaller Craftsman tools, along with a mac daddy 19.2 volt 6 piece cordless combo kit. This thing has a drill, trim saw, reciprocating saw, jig saw, RA drill and a fluorescent light. The trim saw even has a laser guide. [Drooooooolll.] I went about $70 over my a gift card, but I was happy to chip in the extra money.
I can't wait to drop all of this stuff off at Habitat for Humanity later this week. It will be a second dose of feel good. You can see more pics here.
Let Me Grant Your Wish
In addition to the $500 gift card Sears gave me for my wish I have another $500 to spend on wishes for my readers. This whole Don't Just Give a Gift, Grant a Wish concept is very cool. I have put together three wish packages below:
Tool Addict
Includes the same 6 piece cordless combo I bought in the picture above plus a 260 pc. Mechanics Tool Set with 3 Drawer Chest. If you win this I will be totally jealous and may ask to come over and build something.
Technerdia
Garmin Nuvi 250w and an orange 16GB Apple iPod Nano. I have both of these products and love them. You can fight me on the orange color if you win.
Shapeshifter
Ready to loose that chunky butt? How about winning this Schwinn SR23 Recumbent Bike. Set it up in front of your television and you can drop the pounds while watching Dr. Phil.
How to Enter
There are three ways to enter. You can leave a comment, make a blog post or Tweet it out. You can enter up to three times to win by using each of these methods (official rules here). The Contest begins at 12:01 a.m. Eastern Standard Time ("EST") on December 15, 2008 and ends at 11:59 p.m. EST on December 23, 2008.
1. Comment
Simply leave a comment on this blog with the name of the package you would like to win (Tool Addict, Technerdia or Shapeshifter). If you don't like any of my packages you can go to Sears.com and pick out whatever you want, up to $500 in value. If you win you will get what you pick out, please be sure to provide the Sears item number from their website. If you go this route I would suggest you start here. They have a very cool selector based on personality types.
2. Tweet
Simply tweet out the following "RT @tedmurphy please grant my wish to win a (package name from above) – tweet to make your own #sears wish http://urlbrief.com/fd8059"
3. Blog Post
Write a post about this promotion and link back to this blog post. Be sure to let me know what package you would like if you win.
The preceeding was a sponsored post by Sears. If you would like to learn more about Sears Gift Cards click here.