I have spent the past few weeks traveling the country non-stop. That means hours of my life wasted in the airport, many of those sitting in the security screening line on the way to my gate.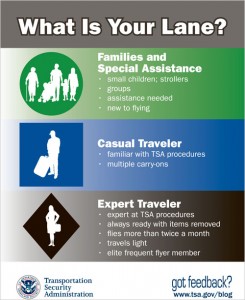 Despite all the videos, signs and screaming TSA employees there is apparently still some confusion about procedures at the security check point. For those of you who have difficulty I have compiled my own guide to getting through security quickly and not annoying your fellow passengers.
The Expert Lane
In most of the major airports there are special expert lanes designated for people that travel regularly. These lanes are designed for people that fly more than twice a month and are "experts" in TSA security procedures. If you don't fly regularly or are traveling with children you should get in another lane with the proper designation.
Common Questions
Q : "This is my first time flying. Am I an expert?"
A : "No. Expert means you fly all the time."
Q : "I am an expert but my 2 year old, 5 year old, 7 year old, wife, grandma (in a wheelchair) and dog are not. Should I get into the expert lane anyway?"
A : "No. While you are an expert you are traveling with your family. You should get in the family lane."
Take off your shoes
Shoes are the things you wear on your feet to protect them and provide comfort. Shoes include sneakers, flip-flops, boots, sandals, pumps, clogs and variety of other styles. "Take off" refers to the act of removing your shoes from your feet.
Common Questions
Q : "I am a woman. Do I have to take my shoes off too?"
A : "Yes. Men and women are treated equally by TSA."
Q : "I am wearing boots which makes it hard to take off my shoes. Do I still need to take them off?"
A : "Yes. Next time wear shoes that are easier to take off."
Q : "Is unlacing my shoes the same as taking them off?"
A : "No. Unlacing them is just unlacing them."
Q : "Are you sure flip flops are considered shoes?"
A : "Yes."
Remove all metal from your body
Metal is a chemical element that is used in a variety of everyday objects. Common metals include silver, steel, iron, nickel, gold and zinc. Metal is typically hard and shiny. You probably have metal in your belt buckle, glasses, piercings and umbrella. You should remove all the metal you have on your body and place it in a bin to go through the X-Ray machine.
Common Questions
Q : "The change in my pocket is hard and shiny. Is it made of metal?"
A : "Yes. Change is metal and should be removed from your pocket."
Q : "My necklace is made of metal. Is that still considered metal?"
A : "Yes."
Discard Sharp Objects
Your are prohibited from carrying any sharp objects on to a plane. Sharp objects include box cutters, ice axes, meat cleavers, razor blades, sabers and swords. Sharp objects must be discarded (thrown away or mailed back home) in order to pass through security.
Common Questions
Q : "Can I bring my pocket knife on the plane."
A : "No. A pocket knife is technically a knife."
Q : "If they X-Ray my sword can I bring it on board."
A : "No. It is still a sword."
Q : "Is a spear gun considered a sharp object?"
A : "Yes. It is a spear… and a gun (see below)."
Discard Weapons and Self Defense Items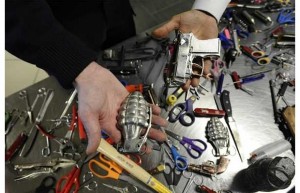 Much like sharp objects, you are prohibited from carrying on weapons along with  martial arts and self defense items. These include guns, grenades, billy clubs, black jacks, brass knuckles, kubatons, mace, nunchakus, stun guns and throwing stars. If it could kill someone it is best to leave it at home.
Common Questions
Q : "I just bought these nunchakus, do I still have to throw them away?"
A : "Yes. It doesn't matter how old they are."
Q : "My gun is in a locked case. Can I bring it on board?"
A : "No. Cases can be opened."
Q : "I am pretty sure that this grenade doesn't have any explosives inside. Is that O.K.?"
A : "No."
I hope that you have found this guide helpful. For more information please visit the TSA website. The frequent travelers of the world would appreciate it.