I have one word for my first day at CES – overwhelming. I have been to quite a few trade shows in my life but I have never been to one as big as this. The booths are enormous, people are packed in like sardines and the event seems to have no end. I don't know what exhibitors like Panasonic, Microsoft and Samsung pay to have 30,000 square foot booths at CES but it is no doubt in the millions of dollars.
CES is a techo nerds dream, every gadget and gimzo you can think of is on display. It is hard to choose a favorite but among my top picks are Panasonic's mini-SLR camera (props to Chris Brogan for getting me to the booth), Sony's 3D HDTV and Samsung's ridiculously thin flat screens. My top honor of the day goes to Intel for three reasons: 1. The Internet enabled television is their booth was awesome. 2. Dinner at Sushi Samaba took eating to a new level. 3. The party they co-hosted with Zappos rocked my world.
Internet Enabled Television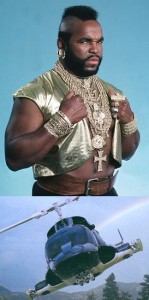 Imagine Mr. T as captain of Airwolf with Chuck Norris as co-pilot. Now imagine they are on a humanitarian mission to deliver pallet of Nintendo Wiis and 200 inch flat screens to a country exclusively populated with bikini models where you are dictator. Multiply that by 6.2 and it is half as cool as the Internet enabled television Intel had in their booth. Intel's chips provide the processing power that enable a setup box to combine HDTV with all sorts of "gadgets" including RSS, Flickr and Twitter streams. You can watch TV with a small strip of tweets updating like a stock ticker on the bottom of your screen. Drool. I want. The box itself is developed by WidgetTV, they are still working with cable and satellite providers to roll out the box. Give me something cool like this and I might actually get cable again.
YOU WANT THIS! Please leave a comment and help show support so the cable companies adopt this sooner rather than later. I am going to forward this post on to the company.

Sushi Samba
I sometimes forget what really good food tastes like. I am perfectly happy with a box of mac and cheese or bowl (tub) of cereal. Last night I remembered that these meals kinda suck in the grand scheme of things. My dinner with the Intel and Edelman team at Sushi Samba was nothing short of perfection. If you ever get a chance to go you must try the Chilean seabass, it tastes like magic.
Rocking with MC Hammer
Though MC Hammer sings adamantly that he can't be touched I can assure you that he can be. I had the opportunity to hang with Hammer for a bit at the Intel/Zappos party last night and he is a very nice guy. I also ran into my friends Julie, Alex, Brian, Kelly, Brett, Chris, Lotay and many other new faces. I think Intel has done a great job embracing social media. They invest in events that bring bloggers together, participate in the conversation online and even create cool tools like the CES news aggregator.
Hats off to Michael Brito and the Intel team for making my first day at CES so awesome. I got to see some cool technology but more importantly I got to meet new geeks.