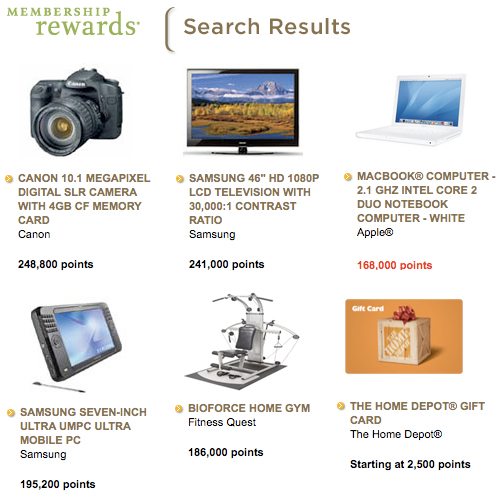 Over the past few years I have racked up quite a few American Express Reward Points. Each point is roughly equivalent to one dollar spent… you do the math.  I have been saving these reward points for a rainy day and with the economy where it is I am sure it's raining for a few of you.
I'm going to do my best to brighten your rainy day. How about up to 250,000 AMEX points for you to spend how you see fit!!?!? You don't need an American Express card, I will spend the points and send the winner the merchandise. What will 250,000 Amex points buy? Here are a few examples:
A $500 Home Depot Gift Card is 50,000 points. That's $2,500 to put towards your home if you went that route. There are literally thousands of products to choose from including travel, entertainment, home goods and electronics.
Want to win up to 250,000 AMEX points?
Here's how to enter:
1) Follow @tedmurphy on Twitter.

2) Tell  your friends about the contest by tweeting "Just entered to win 250,000 Amex points. To enter follow @tedmurphy and RT http://urlbrief.com/00abc6 "
The contest begins today and ends on April 1, 2009 at noon EST. For each one person that follows me the possible award will grow by 5x – up to 250,000 points. I am starting with 6,400 or so followers, so as of today the prize is already at 32,000 points (a domestic coach airplane ticket is 30,000 points).
One lucky person who is following me on Twitter will be chosen live at random on April 1st. It's pretty simple. The more followers I get the more I give away.
Rules and Other Information
Amex points are not transferabble, the winner will be able to pick items from the Amex site and I will have them sent to the winner. This contest is open to anyone in the world 18+ so long as it is legal in their state and country. Please read the official rules for more information. Void where prohibited by law. This contest is not associated with American Express or any other company.