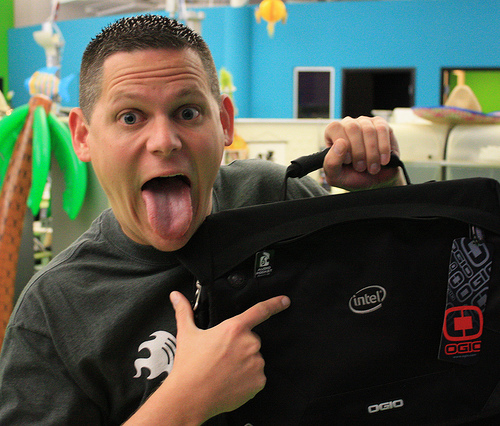 Like many of you I am a fan of Intel. I am running Intel processors in my laptop and desktop and I love the Intel brand. I may not have a Intel processor mini-museum in my basement like my buddy Shoemoney, but I do proudly sport the Intel logo on shirts and stickers as a smaller symbol of nerdism. When my friend Brito (who works at Intel) told me he was coming to visit I asked him to drop by the Intel company store and pick me up some swag. He totally hooked me up, so much so that I have decided to share some of this hard to get Intel gear with my readers.
Intel Swag Giveaway
Computer nerds of the world unite! I am giving away an awesome OGIO laptop bag, a basic notepad, a really nice leather notepad and an oversized pen…. all branded with the Intel logo. This is some high quality gear and would make a cool gift for the computer nerd in your family. As far as I know you can only get this stuff from the company store in Silicon Valley.
How to Enter
You can enter up to three ways. Each type of entry gets you a certain amount of chances to win.
1. POST (10 entries) : Show me your Intel! Write a post on your blog linking back to this post with a picture of you and your Intel powered computer. I want your nerdom to be glowing.
2. COMMENT (2 entries) : Leave a comment on this blog with the type of Intel chip(s) you are running and what type of computer.
3. TWEET it out (1 entry) : Tweet the phrase "RT @tedmurphy is giving away awesome swag from #Intel on his blog http://urlbrief.com/93c309"
You can have up to 13 entries per person if you do all three. The winner will be chosen at random. Contest cIoses at midnight EST December 17th, 2008. Iam going to announce the winner on December 18th and will ship it to you in time for Christmas as long as you get back to me with your address by the 19th. This is a personal contest, not sponsored by any company.