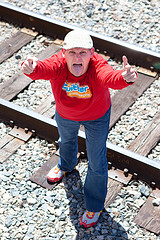 Over the past few months I have been gearing up for my big keynote on personal
branding during IZEAFest at SeaWorld in October. One of the foundations I will touch upon during my presentation is the importance of imagery and design in building a brand. Corporations invest millions of dollars developing graphical assets for their brand and as an blogger you should be investing too (though probably not on the same scale ; ).
While your logo and blog design are your most important graphical assets you can't forget about supporting assets like photos. I am amazed by how many big name bloggers have crappy headshots or no headshot at all. We constantly struggle with bloggers to provide us with quality images for our sites and other promotional efforts.
On blogger who stands out from the crowd is Sarah Austin. Check out the speaker photo she provided for the IZEAFest website. It is fun, professional and truly reflects her personal brand.
I have been using this self portrait since 2005. While I like the photo it doesn't really reflect my personality or my brand. I mean….where is the tongue in that photo??? It was time for a change. I linked up with orlando photographer Adam Wiggall to create a series of photos that I can use for promotion of myself and IZEA. I absolutely love what he came up with, I can't wait to share these photos with the media. You can see the whole collection here.
It's time for you to get some quality photos taken as well. If you can't hire Adam (which you should if you live in central florida) find a local photographer and make it happen. Professional photos can add signifcant value to your personal brand.